Group members: Sagal Ahmed, Beck Arnow, Hali'a Buchal, Margie Clauss
28.October.2021, 1:00pm-4:30pm
The weather (rain) had interfered with our original lab plans today for pottery firing. Instead, our efforts focused on finishing up the warp weighted loom, which mostly involved touch-ups and detailing of the wood after a week of drying. We did not have access to the traditional woodworking tools that Sam, the woodworking expert, had us employ last week; but we tried to stick to the traditional techniques used in the original woodworking lab session. Our tools consisted of planers, filers, knives, chisels, hammers, saw horse sets, a wood carving tool set, and an electric drill.
We split ourselves into our lab groups, each at one of three different stations in our classroom laboratory: the chisel and drilling station, the filing station, and the debarking station. Having had most of the work done, the tools we used did not present many problems to us, except for the dull blades and chisels that were not cleaning up the logs well. We then resorted to borrowing wood-working tools from the makers-space, which were mostly tools that we already had but were in better condition.
Our research questions and goals remain:
To create a working loom that will let us recreate the woven fabric typical of "Anglo-Saxon" clothing.
To gain an experiential understanding of the process of building a structure from wood.
To better understand the constraints those properties impose on the desired finished product and the skill and experience necessary to overcome them.
Process:
Chisel and Drilling Station
The main objective of this station was to chisel out the log ends into a sort of 360-saddle notch for the cloth beam of the warp weighted loom. We used a hammer and chisel to achieve this, along with three groups of people and four hours. Weights were required to keep the log steady as individuals shaped the log. The most immediate and effective weights we used were our own bodies. Typically, two of the group members were designated to be seated on the log while one or two other group members chiseled.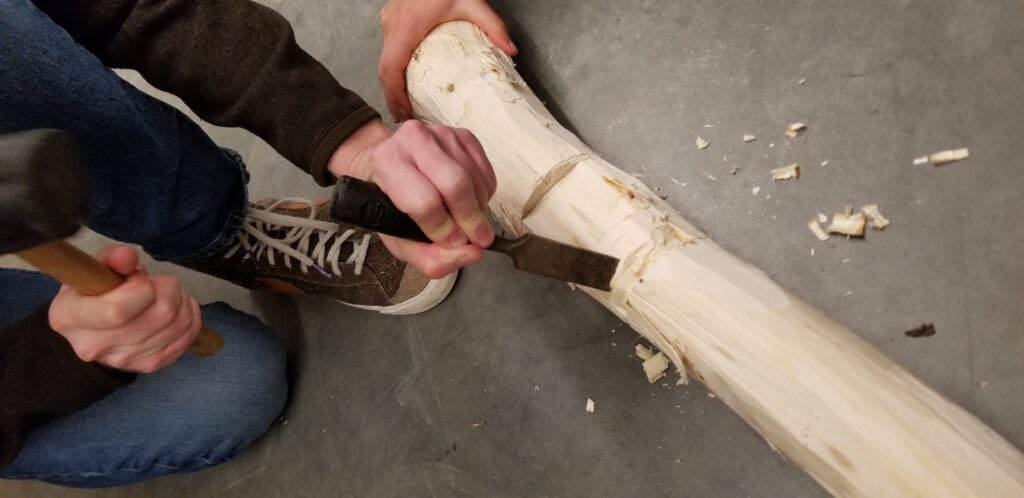 The goal of this station was to make sure our uprights, top beams, and other beams and accessories were all smooth. This process seemed to be the most time consuming, since we could always make our pieces smoother and remove more imperfections. In general most of it was okay to be left rough, but we really wanted to get all the sapwood and bark off. We especially had to file our top beam where we had chiseled out the notches. This is so it can turn easier when we need to move our fabric up to make more. It also helped it fit better into our uprights. This station also caused a large mess in our indoor workspace, since we created a lot of wood shavings that were more fine than the bark that was shaved off in the debarking process.
We still had a few shed rods to debark, so we used our makeshift shave horse to remove as much bark as possible. We also got to use the bill hook to remove small branches and knots, which was quite fun. This station was the most different from last week, since we didn't have the nice draw knife and holding mechanism. It took a bit more teamwork and trust to remove all the bark. It was also a lot more frustrating since we had to unclamp the wood everytime we wanted to rotate it and the chair we were using would slide backwards when we tried to work on tough knots. But overall this was still one of the easier stations, since we were all pretty familiar with debarking from last week's lab.
Conclusion:
This lab was mostly a refining of last week's processes, though the different suite of tools we had at our disposal offered a unique perspective into why having the correct tools and setup was important. We found all the processes we wanted to do were possible, though quite a bit less efficient and required more collaboration. It was a bit more frustrating to attempt to do all of this inside, and definitely not as 'authentic', but it was very satisfying to complete our loom and see it all put together.
While we completed our loom, we did have a few lingering questions. The biggest was, how well is our loom going to work? Our loom looked very well put together for us, but how does it compare to old looms? Would it being 'lower-quality' affect the quality of the fabric created? Hopefully, in the next two weeks our loom will work efficiently and we will be able to create some well-weaved fabric off of it. The most exciting part of having this loom is now being able to use it. It was interesting to create a product for the sake of creating another product. This is often something we don't think about, but all the steps that go into making fabric, require us to make tools to create our products. This can be a little nerve racking, because as the quality of the tools goes up or down, the quality of the product can and does too. Next week we'll be able to see how well we did!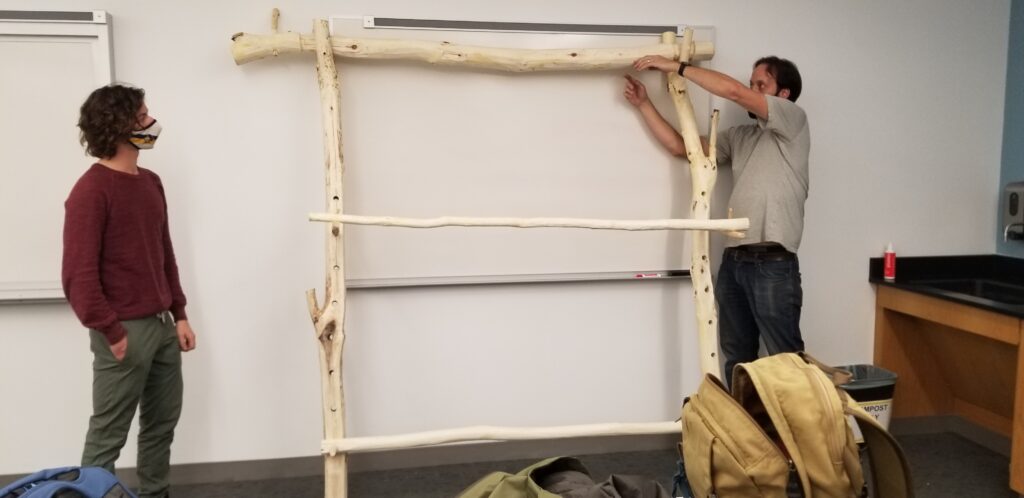 ---
Group Data Reports
As we have all remarked in our lab journals, we spent the week seven lab inside woodworking rather than firing the loom weights due to poor weather. We refined the pieces of our loom (smoothing beams, chiseling) and fashioned several new heddles. In all, we have now spent about eight hours working on the loom…

---

Group B: Madeline, Becca, Jacob, Sally We were supposed to be firing for this week's lab, but due to inclement weather we instead worked in the archaeology lab to finish up some of the wood working and refining that we didn't get to last week. We were set up in three general stations: using a…

---

Group C Lab Data: Hannah Angerman, Beck Arnow, Sagal Ahmed, and Emmy Belloni For this week's lab, we were supposed to be pit firing our loom weights however the lab was rained out. Instead we continued woodworking in the Archaeology lab and we finished the final pieces of our frame for the loom. Although this…

---