For our final lab, we constructed an Anglo-Saxon mortuary house. Unfortunately, the weather gods abandoned us in our time of need––our scheduled lab was rained out, and as a result, we had to divide the process into four ~1 hour long blocks.
Block One – Wednesday, May 26th
Instructions: go into Lower Arb and collect 36-40 wattle weavers (1" diameter; 4-6' height) and 6 stakes (1-2" diameter; 3-4' height).
Observations:
Start time (from when we entered the woods) = 11:52am
The wattle weavers were easy to find
The stakes were harder

The brush in our area was pretty consistently thin; we decided that the thicker wattle weavers could also serve as stakes, if necessary

Both cutting tools were efficient

One groupmate said, "I thought this would be more difficult to be honest. The act of cutting takes like 5 seconds."

Dividing and conquering (marking duty and cutting duty) was not the most productive, since our green ribbon blended in with the flora
At 12:12pm, we started trimming excess leaves and branches
We found a pile of dead wood that provided us with some more suitable stakes
By the end of the block (12:40pm), we had a total of 26 wattle weavers and 6 stakes
Carrying them back was a challenge, and we realized many of our sticks were too curvy
Block Two – Friday, May 28th
Instructions: Start constructing wattle wall (120cm width; 90 cm height)
Observations:
Start time (from when began processing our materials) = 11:17am
Trimming was a two person job; person A sorts, holds, and rotates the wattle weavers while person B trims excess leaves and branches

This went much faster once we started leveraging from farther inside the snippers

Axe-sharpening the stakes was a one person job, but it took a lot of getting used to

Time to sharpen one stake went from 7 minutes to 6 minutes to 3 minutes to 2 minutes (also depending on how thick each stake was)

We hammered 5 stakes into the ground, spaced ~24cm apart

We later realized that one of the end stakes was spaced too far from its neighbor

We could not get our stakes 6" into the ground, but we got them about 3" in and started weaving higher up
We hit a groove when we started weaving, since we all have experience with it after the Wool and Cordage labs

One groupmate said, "it's all about using the bends in the wood to your advantage"
Major challenge––our end posts curved away.

We got about a third of the way to our goal by the end of the block
Block Three – Monday, May 31st
Instructions: Finish constructing wattle wall; attach wattle wall to house structure
Observations:
Start time (from when we returned to our wattle walls) = 11:20am
As the rest of the house structure came together, we had to adjust the width and height of our wall to fit

Our wall was 150cm wide, so we decided to remove one of the end stakes; this put us at ~123cm

30 minutes later, we were told we would need to cut down to 110cm

We realized we had to wrap more of our wattle weavers around the end stakes to keep the wall from falling apart, but most of them were too thick

We sawed off the ones that were too thick

At 11:47am, our stakes started coming out of the ground; we tried to hammer them back in, but were not successful
At 11:52am, we ran out of wattle weavers and began depending on collectors from other groups
By 12:14pm, our wall was so slanted and unstable that we determined we would need twine to hold it together

This helped us reach 109cm width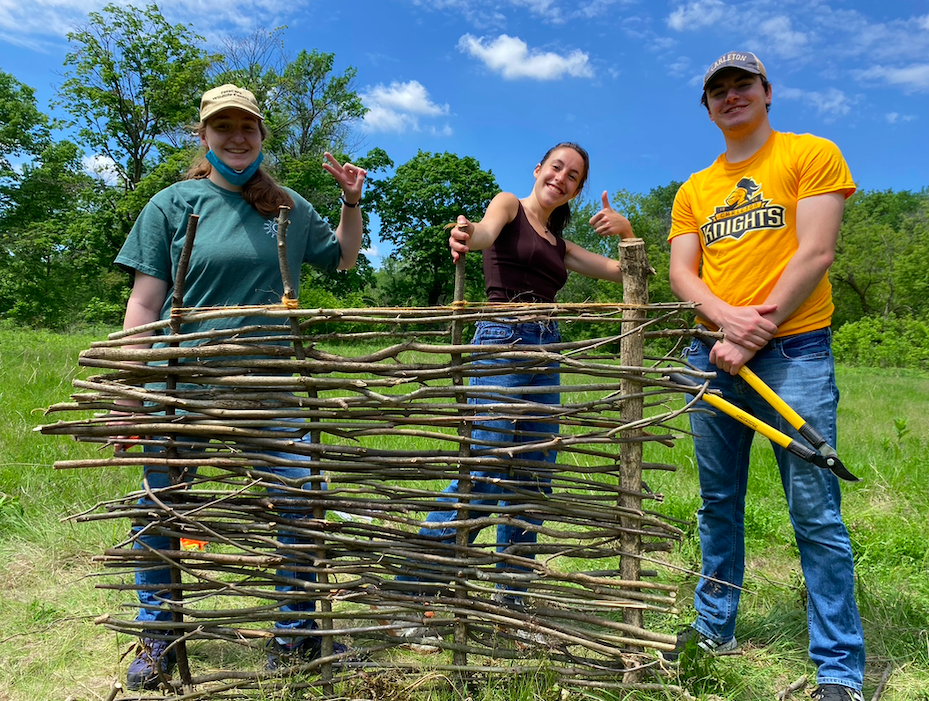 We pulled our stakes out of the ground and only lost one wattle weaver
When we went to attach our wall to the house structure, it was still too wide, so we sawed off the ends even more closely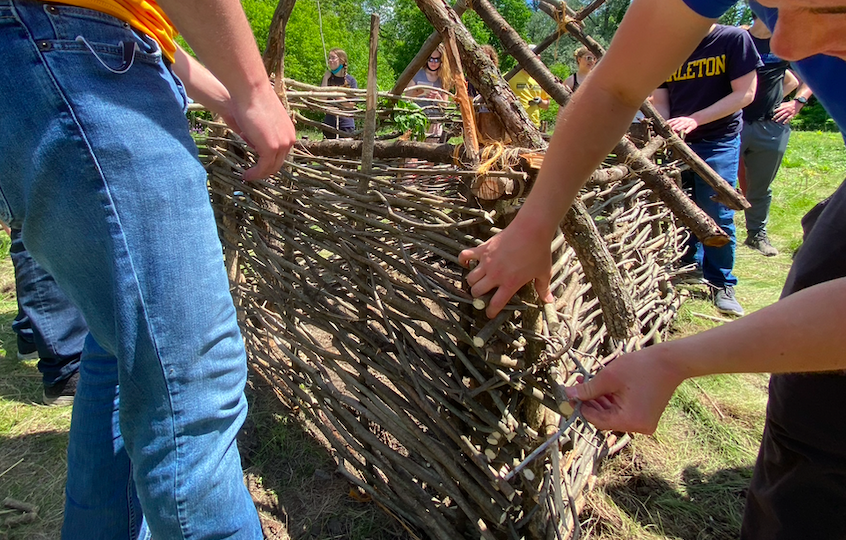 Block Four – Wednesday, June 2nd
Instructions: Daub wattle wall
Observations:
Start time (from when we made our first trip to the bank) = 11:26am
We collected our mud from the lower bank of the creek
We could not carry too much at a time because the buckets were so heavy
Our daub was far too sandy, even when kneaded with water and straw

One groupmate said, "the balance between enough straw and too much straw is difficult to achieve"
We made multiple trips to the bank trying to find the stickiest mud to even it out

The top layer was mud, everything below was sand; we had to scrape
The top layer mud was rocky

We realized that in addition to too much sand, our daub had too much water

We tried to drain the water multiple times by pick up the tarp at an angle

Eventually, we flipped over our pile of daub and started picking out the sand by hand
We did not spend too long kneading so that we would have enough time to daub the whole wall
Our daub did not stick, especially at larger gaps

The daubers eventually developed a technique and made it work; when I asked them to describe their technique, they said it was mostly just instinct

At 12:27pm, one of the groups that had already finished daubing their wall gave us their excess mud, which was much stickier
When we looked at our wall from the inside, there was a lot of light shining through––but nonetheless full coverage
We did not fill in the corners
We finished in the nick of time