For this week's lab exploring Grain, we set out to uncover the effect of including a farro-paste in bread making practices that mimicked those published in Cato the Elder's On Agriculture from 165 BC. Our lab group, Group B, was charged with making Spira, a variant of the bread and cheese cake Placenta. Spira involves making rope-like strands of dough and using them within the placenta to separate layers of a honey and feta cheese mixture; the word for these layers is tracta. In the making of our Spira, we did two trials: one Spira in which we made the tracta using farro paste as well as emmer flour, and another Spira whose tracta were made using only emmer flour.
Spira #1 – Emmer Flour and Farro Paste – Cook Time 41 minutes
| | |
| --- | --- |
| Tracta Dough | Amount |
| Farro paste | 5.6oz |
| Emmer flour | 4.6oz |
| Water | 2.3oz |
| Salt | 2 pinches |
| Base dough | |
| Bread flour | 4.8oz |
| Water | 3.9oz |
| Cheese mixture | |
| Feta | 1lbs |
| Honey | 5oz |
To create our farro paste, we ground 5.6 oz of pre-soaked farro using a metate as well as a mortar and pestle. We switched to a mortar and pestle after 9 minutes of using the metate; we unfortunately broke the metate but found the mortar and pestle required less energy and achieved better results than the metate. After grinding the farro into a paste for about 15 minutes, we added 4.6 oz of emmer flour, two pinches of salt, and a total of 2.3oz of water, added gradually as we mixed the farro paste and flour together. We kneaded this dough mixture for 25 minutes before we formed the base tracta (disc shape) and 3 rope-like tracta. The base for our Spira did not use the farro paste; we used 2.3 oz of bread flour and 1.9 oz of water to make a simple dough. It is important to note that our original recipe made a bit less than half of the base dough which we needed; we made more base flour using 2.5 oz bread flour and 2 oz of water. We crafted our Spira, and sealed the structure with much effort.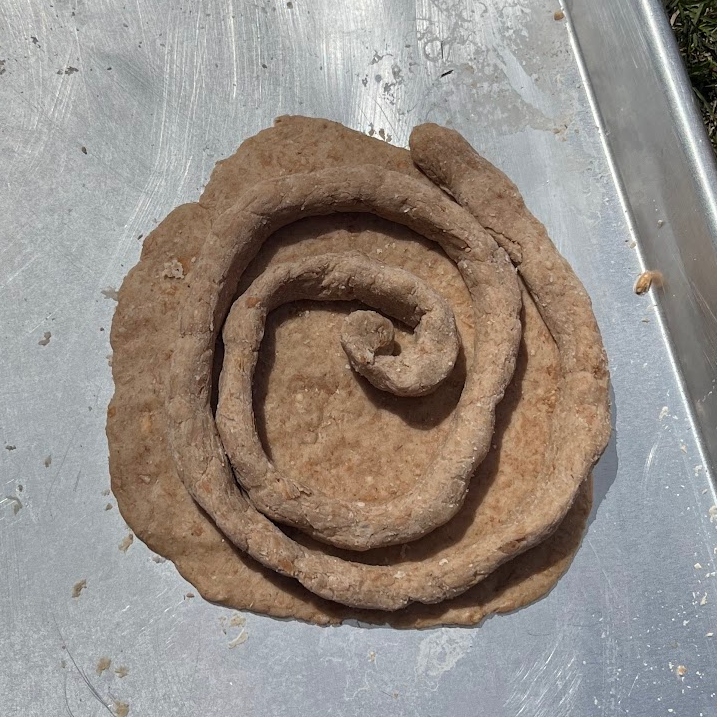 Finally, we placed the Spira in the dutch oven on top of bay leaves covered in olive oil. We began baking our Spira at 2:53, and placed it on the hot coals and layered coals on top of the dutch oven. We baked over the coals until 3:28 (35 minutes) then removed the oven from the coals, keeping only coals on top of the over for another 6 minutes (41 minutes total). We struggled for multiple minutes to remove the Spira from the cast iron, as it had cooked onto the base.
Our Spira emerged from the oven perhaps slightly underbaked, but the bottom of the pan was too hot and we would've continued to burn the base had we not removed the Spira from the oven. Our protective layer of base dough unfortunately developed some holes in the baking process; we were forced to spread our dough quite thin in an effort to cover the Spira fully. Ourselves (and Ellen and Jake) found the dough of the tracta to be quite spongey, especially in comparison to the base dough which did not contain the farro paste.
Spira #2 – Emmer Flour Only – Cook Time 27 minutes
| | |
| --- | --- |
| Tracta Dough | Amount |
| Emmer flour | 4.9oz |
| Bread flour | .7oz |
| Water | 2.8oz |
| Salt | 2 pinches |
| Base dough |  |
| Bread flour | 4.8oz |
| Water | 3.9oz |
| Cheese mixture |  |
| Feta | 1lbs |
| Honey | 5oz |
To directly test the impact(s) of the farro paste on the texture of the Spira, we constructed and baked another Spira without using farro paste. The base dough was the same as with our first Spira, and our tracta dough used 5.6oz of emmer flour rather than a combination of 5.6oz farro paste and 4.6oz emmer flour (the first spira). We crafted our tracta dough using 4.9oz emmer flour, .7oz bread flour, and 2.8oz water (added gradually as dough formed). From there, we crafted another Spira in the exact same manner as our first one. We once again doubled the base dough, and crafted three tracta using our emmer and bread flour dough.
At first we only used about half of our feta + honey mixture (we originally used 10.9oz out of 21), but added the remainder of the mixture before we sealed the base dough over our Spira. We baked the Spira for 27 minutes, this time taking more care to remove the base of the oven from the coals earlier so as to not burn it. Our second Spira did not fare as well as our first; it combusted in the oven and did not maintain its structure. In retrospect, it may have been a good idea to use less of the feta mixture. The tracta of our second Spira were noticeably less spongey than those of our first. It seems the farro paste truly does, as we suspected, have a positive effect on the dough within Spira. Another conclusion, while not what we sought to find, is that it is very hard to make Spira using the ratios of cheese and honey which Cato recommends. Both of our Spira were nearly impossible to close using the base dough (even after doubling), and the cake was incredibly cheese forward.